Announcements
Subscribe to posts
Greg Booth Engineering completed an energy survey of the building in our efforts to reduce the costs associated with heating and cooling this property.  The results are in and recommendations include installation of a variable speed drive (VSD) for the cooling fan - which is nearly completed - as well as insulting exposed hot water pipes. Other recommendations, include best practices that owners/renters may want to follow, including their use of the radiant floor heat and/or use of air systems, plus the location of thermostats. 
The commercial building that, until December, housed Brainwash, SoMa's mainstay laundromat and cafe, went on sale this week asking $4.95 million. 
See details at SFCurbed.com
Local developer Workshop1 wants to build 17 new condos in a six-story building at 280 Seventh Street.  See details: 
Article at SFCurbed.com
(The following is a copy of the SoMa West CBD January newsletter.
See their website
for more and current information.)
We are almost ready to enter the Petition Phase of the process! We have submitted the Management Plan and Engineer's Report to the City and will be mailing petitions to all property owners in early February. Please be on the lookout for your petition in the mail and share news about the SoMa West CBD with anyone you know in the area!
Petition mailer to property owners
We will be mailing out petitions and a copy of the management plan to all property owners in early February. Please contact us if you did not receive yours by mid February. You can support the SoMa West CBD by returning the petition and encouraging everyone you know to do the same. We will continue to hold info sessions throughout the petition phase to answer any questions and provide additional information.
Attend an info session to learn more
Management plan & engineer's report
We have finalized the Management Plan and Engineer's Report and submitted them for review by the City. The Management Plan details the governance, budget, plus programs & services provided by the district. Approximately 80% of the budget will go to improving safety and cleanliness on a daily basis. Once the Management Plan is reviewed by the City we will post it on our website and include a copy in the petition mailer. For examples of similar management plans visit the website of the OEWD.
City Review (Jan): The Management Plan is and Engineers Report are currently being reviewed by the City OEWD office. 
The Board of Supervisors will recognize the SoMa West CBD steering committee for its efforts to make the neighborhood cleaner and safer for everyone at their meeting on Tuesday, Jan 30th.
Petition Phase (Feb-Apr): In early February we will send out petitions to all property owners in SoMa West for the SoMa West CBD. Property owners totaling more than 30% of the proposed assessment will need to sign the petition for the SoMa West CBD formation to move forward to the balloting phase.
Ballot Phase (June): If the petition phase is successful, we will send the official ballot to all property owners in SoMa West in June. The SoMa West CBD will form if property owners totaling over 50% of the proposed assessment vote in favor of the CBD.
Services (2019-2034): If the SoMa West CBD is passed in the June ballot phase, services will start as of January 2019.
We will need to reach out to every property owner to sign the petition. If you live in a multi-unit building you can help spread the word about the petition to your neighbors. Please contact us if you would like to help spread the word or personally know any large property owners.
Invite other property owners to learn more at one of our public info sessions listed above.
We are accepting tax deductible donations to help fund the formation of the SoMa West CBD.
Do you know or have contact information for anyone who owns multiple or large properties within our proposed area of SoMa West? We are trying to reach as many property owners as possible to ensure their support.
You can help spread the word about the formation of SoMa West CBD in your building or company. Ask us for fliers to pass out in the neighborhood where you live or work.
If you would like to help, please email us at info@swcbd.org
We want to hear from residents, property owners, business owners, and workers in the SoMa West CBD area. Each person within a residence or business should take the survey since everyone has a different opinion which deserves to be heard. We continue to invite everyone who has not yet expressed their opinion to take our quick survey!
Proposed area for the SoMa West CBD
From 
LoopNet
. Next to Sightglass on 7th. The listing seems to be leaving open whether the existing building is worth reusing. 
Industrial Property For Sale
Price:

$5,250,000

Building Size:

6,386 

SF

Price/SF:

$822.11

Property Type:

Industrial

Property Sub-type:

Flex Space

Property Use Type:

Vacant/Owner-User
Commission Split:

2.5%

Clear Ceiling Height:

35 ft.

Lot Size:

6,500 

SF

Listing ID

19514428

Last Updated

2 days ago
Description
Janice Lee from Coldwell Banker is pleased to offer investors and developers the opportunity to purchase 280 7th Street. Potential site for 29 Lofts/Condos and Retail/Restaurant on the ground floor. The existing one to two story building includes a 5636 sqft nightclub with about 750 sqft of accessory retail and office space comprising of approximately 6386 gross square feet of commercial building, located in the heart of South of Market (SOMA). 280 7th Street was occupied by a well known nightclub, commonly known as Club Hide. Retrofit work and electrical update was completed in 2000. There is one off-street parking space and the height of the two-story building is approximately 35 feet. The SLR zoning currently allows for 65X height and may be a prime development site. The lot is approximately 6500 gross square feet of land and extends onto Langton Street.
The project site is located midblock on a block bounded by Howard Street to the north, Seventh Street to the east, Folsom Street to the south, and Langton Street to the west. Due to the central location, the area is undergoing tremendous commercial, residential and transit developments. Located close to Market Street and the dynamic night life of the city. The property is steps from BART, MUNI, freeways and CalTrain and all the wonderful shops, bars and eateries in the SOMA. The location is within a few blocks of many of San Francisco' s most-desirable tech tenants, including Twitter, Advent, Adobe, Pinterest, Airbnb, Dolby, Uber, Square, The Site is also walking distance to many of San Francisco' s most convenient retailers, includ-
ing Costco, Safeway, Trader Joe' s, Nordstrom Rack, Bed Bath & Beyond, and many others.


This is a good opportunity to own a property represents the heritage and heart of San Francisco. It has a Walk score of 96 - a Walker's Paradise! It also has a Transit Score of 100 - a Rider's Paradise too! The Site is being offered for sale unentitled and in as-is condition.
Details from 2014 re the development across the street from 60 Rausch, behind 73 Sumner, from 
Six Story Folsom Street Development Rendered, Dubbed 99 Rausch: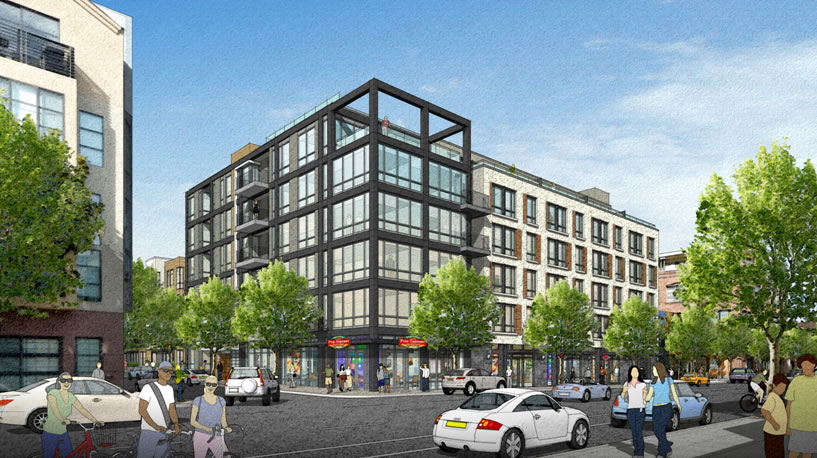 The Local Development Group has officially filed their application to raze the former Bay Lighting & Design building and adjacent parking lot on the northeast corner of Folsom and Rausch and construct a mixed-use development with 112 residential units, 5,600 square feet of ground floor retail, and 100 parking stalls on the West SoMa site.
While currently known as the 1140 Folsom Street project, the development which is being designed by BAR Architects will be dubbed 99 Rausch.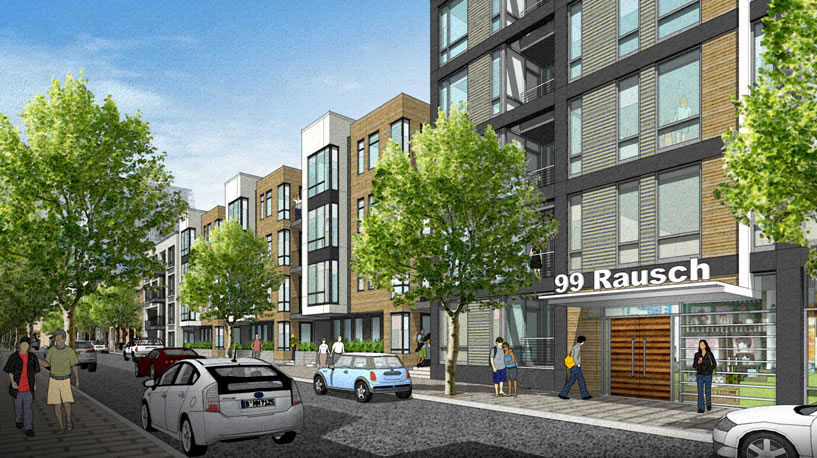 The design details and full Rausch Street facade by way of a plugged-in source:
The plan is to demolish the existing commercial building on the site and construct a project that will include 45 two-bedroom units, 52 one-bedroom units and 15 studios at a height of 6 stories along Folsom and 4 stories along the Rausch frontage. Additionally, one level of underground parking would be access from Rausch Street. We are excited to activate the Folsom frontage with ground-floor retail and building entrances where the current building has only a blank façade all along Folsom.

The project design builds on the unique character of the Rausch Street neighborhood. The Folsom façade highlights three elements. First, a clearly defined retail base will enhance the pedestrian experience by lowering the façade's scale and providing richness with stone material and storefront variety. The housing above the retail is appropriately scaled with large windows and brick material, reminiscent of several brick buildings along Folsom Street. Finally, the corner of Folsom and Rausch will be accentuated by a lighter structure with expansive windows to create a sense of openness and maximize views. The developer is committed to activating the street-level experience along Folsom where they propose sidewalk bulb-outs at Folsom/Rausch, public bicycle parking, and enhanced landscaping at street level designed by landscape architect Cliff Lowe.

Along Rausch, the project utilizes a rhythm of smaller scaled units that is contextual to the charming nature of the existing environment. The project steps down to four stories along Rausch and the building features garden stoop entrances, enhanced landscaping and trees to activate the sidewalk experience. Bay windows will also reduce the scale along Rausch and provide southern light and views to the residents.
The full Rausch Street facade and elevation (click to enlarge):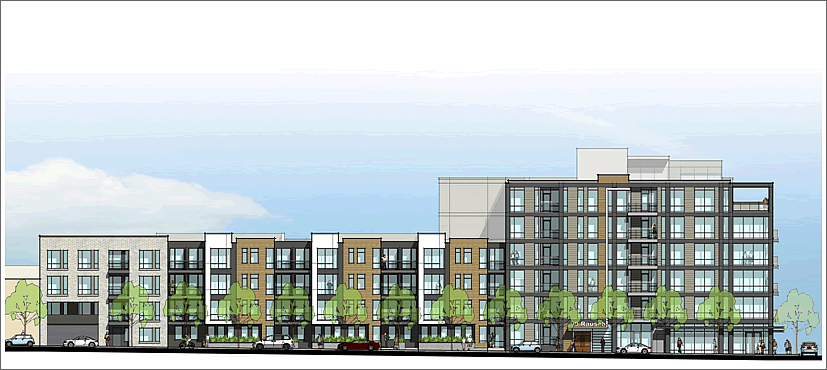 A letter from Berding | Weil, attorneys for the 73 Sumner St Homeowners Association, was distributed today:
Re: 73 Sumner Street Homeowners Association v. 73 Sumner LLC, et al




As you know, the Association reached a settlement in the above-referenced proceedings in early February 2014. A dismissal of the lawsuit could not be filed, however, until settlement agreements were finalized and signed, and the Association was in receipt of all settlement funds. 




We are happy to report that those steps are now complete and a dismissal of the lawsuit was filed on April 15, 2014. Our office now considers this matter concluded. We sincerely appreciate your patience throughout this process.
A copy of the letter is attached. 
Per the attached notice, a Pre-Application meeting to discuss development plans for the 1174-1178 Folsom project will be held on 10/24/2013, 7:00pm, at 461 2nd Street #C127, SF. 
Minutes for the 4/26/13 Yearly and Quarterly meetings are available: